Zoom! Whitening
Let us brighten your smile with Zoom! Whitening. A whiter, brighter smile is possible in just one appointment.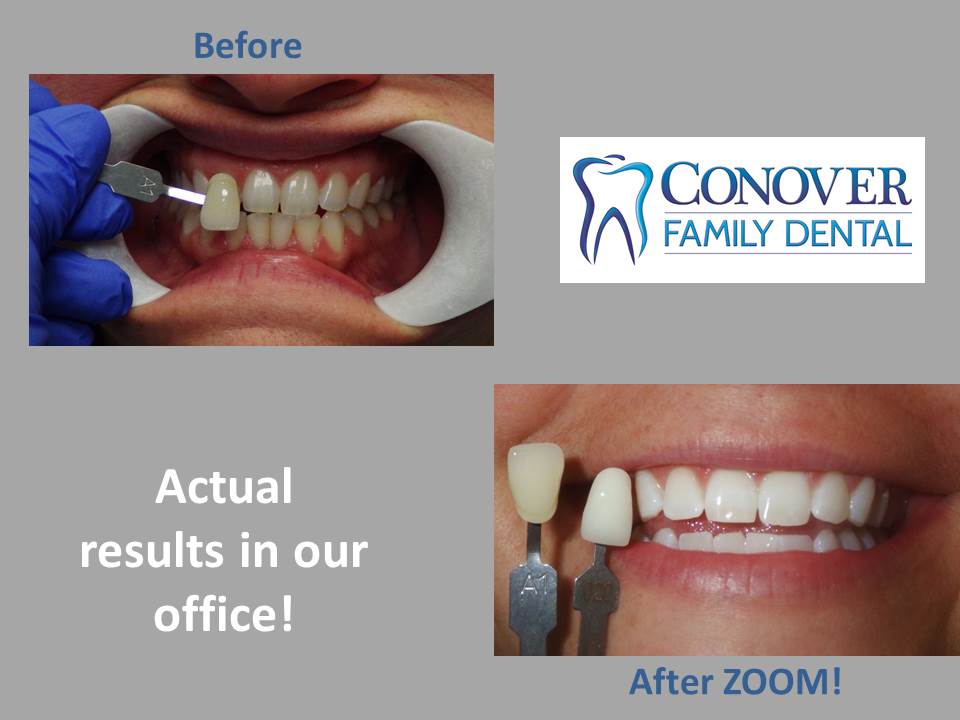 What is Zoom! Whitening?
We recommend Zoom whitening as the best and fastest way to a whiter, brighter smile. In just a few hours we can make your teeth drastically whiter.
How does the process work?
At a consultation visit, we will check the shade of your teeth and make sure you are a good candidate for Zoom whitening. We will take impressions in preparation for your Zoom appointment. At your Zoom appointment, we will place an isolation barrier in your mouth that protects your gums. We apply a whitening gel to your teeth and then treat them with an ultraviolet light. The process takes about 2 hours. Most patients choose to listen to music or watch a movie during the appointment.
How do I know if I am a candidate for Zoom! Whitening?
The best way to find out if Zoom is right for you is to schedule a consultation with Dr. Conover. He will check your mouth to see if you are a candidate. Patients who have fillings or crowns on their front teeth might need to consider having their dental work replaced in conjunction with whitening to ensure a matching shade. Patients with certain dental problems may need to have their problems addressed before whitening. Dr. Conover can help you determine the best plan to enhance your smile.
What about sensitivity?
Sensitivity is a risk with all types of whitening treatment. Not everyone experiences sensitivity, but if you do, it fades with time. Included in your Zoom whitening package are custom trays and a gel that will help combat post-operative sensitivity. If you have sensitive teeth, or you are worried about the possibility of sensitivity please let Dr. Conover know because he may recommend an alternative whitening solution.
What kind of results can I expect?
Like any dental or medical treatment, the results with whitening vary from person to person. We find that teeth that have become yellow tend to respond better to whitening than teeth that are dark grey or brown. We also notice that the best results are found on teeth that are stained from coffee, tea, wine, and smoking. Teeth that are darkened from problems like tetracycline stain are more resistant to whitening. Dr. Conover will discuss expectations with you before going forward with whitening your teeth.
I have white spots on my teeth, will Zoom! whitening help with the appearance of my teeth?
Variations in color can come from a variety of different sources. One of the most common causes is Fluorosis. Fluorosis comes from consuming too much fluoride during childhood and results in harmless white streaks or spots on your teeth. There are several options for improving the appearance of teeth with white spots. The most conservative option is remineralization, which involves a simple acid pre-treatment of the teeth and application of a special paste which repairs the mineral structure of the enamel. This treatment can often be performed in conjunction with whitening.
How long will my teeth stay white?
Because most staining comes from habits like coffee and tea drinking, it is possible for your shade to relapse. We have found that the best way to maintain your shade is through periodic at-home whitening treatments. Included in your Zoom whitening package are custom trays that can be used for at-home whitening maintenance. Most of our patients are able to maintain their shade by whitening at home for one week a year.
What are other options for whitening?
We also offer take home whitening solutions in our office. Take home whitening solutions are often recommended for patients with very sensitive teeth, or if you have dental work on your front teeth that you do not want to replace.
What does Zoom! Whitening Cost?
Please call our office at 513-931-7542 for up to date pricing information. Zoom! Whitening is available at our location in Finneytown (Winton Road) and Deer Park (Plainfield Road), by appointment.